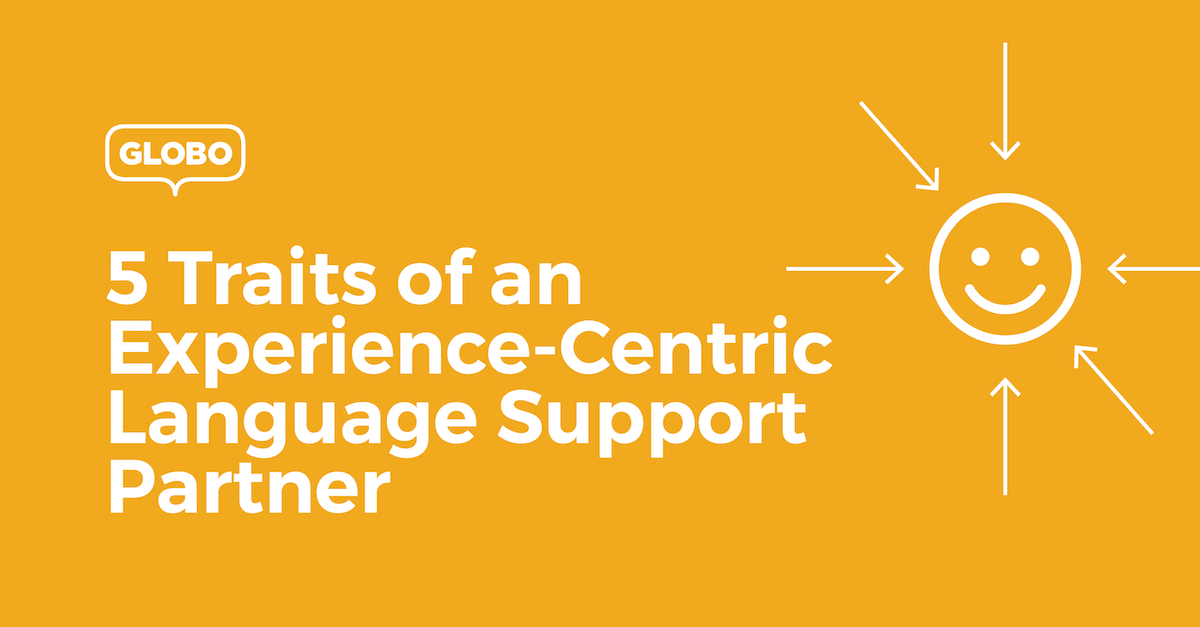 Across industries, providing equal access to your products and services in people's native language can improve communication, eliminate barriers, and help them feel at ease throughout their entire journey.
Language support is one of the key components of a good customer experience. Since approximately 8.5% of the total U.S. population speak and understand English "less than very well" (25.6 million people), it's important for organizations to create a welcoming space where everyone has access to services in the language they're most comfortable with.
Technology-forward language support can help companies connect with this growing customer base. But because of the unique nature of language support services, finding the right provider for your organization isn't always cut and dry. Taking a step back to understand the traits of an experience-centric language support provider (LSP) can help simplify the vendor selection process and make it easier to understand the role language support might play in your organization.
Here are five traits to look for in your language support provider.
1. Curious
You know your customers, your business, and your industry better than anyone, so a language support provider should lean on you to help them understand how best to serve your end-users. Curious LSPs ask a lot of questions and welcome feedback from stakeholders on both the limited-English-speaking customer's journey and your employees' needs. A curious LSP is the sign of a partner who is determined to offer the best experience and is willing to cater its services in order to provide a better experience (for everyone).
2. Accountable
Your employees understand the need to provide a quality experience to every person you serve. Your language support provider should feel responsible for ensuring that the high level of customer service you provide extends to customers with limited-English proficiency.
A best-in-class LSP knows that a customer-centric experience requires everyone to be accountable for their role in the process. They will be willing to discuss any potential gaps or challenges and implement corrective action plans as needed to ensure the best experience across all channels of communication.
3. Supportive
When you work with an LSP, they are not just a vendor but an extension of your team. That means they need to be available 24/7 to help with any support you need. This is especially critical for companies that serve customers outside of "regular" business hours, which will need access to customer support, qualified interpreters, and on-demand translation services at all times.
Make sure your LSP has multiple channels to engage with you — bonus points for a dedicated customer service contact who is willing to take the time to understand your needs. A supportive LSP is one that is committed to the highest level of service.
4. Forward-thinking
As the population in the U.S. grows more diverse and experience-centric companies focus on how to offer even better support to customers, it's important to partner with a provider who can think beyond the present moment. A forward-thinking provider will work hand-in-hand with your team to create a strategic roadmap for the future of your company and industry and be prepared to adapt and meet your needs.
Experience-centric LSPs will also keep up with changes in their own industry, which means offering a variety of interpreting options across various channels and the ability to integrate with emerging technologies.
5. Transparent
An experience-centric LSP will have the ability to measure key metrics, equipping you with information and enabling you to provide better support to customers. That means regular reporting and analysis of your language services, from language volumes to call handle times, in a format that allows you to draw valuable insights and create actionable plans for improvement and growth in the future.
Create better experiences (for everyone).
GLOBO is a leader in language support technology, and our team is dedicated to the success of yours. We can help navigate your language support needs and enable you to offer better experiences to those you serve, no matter what language they speak. Talk to us today to find out more.
Additional Resources: