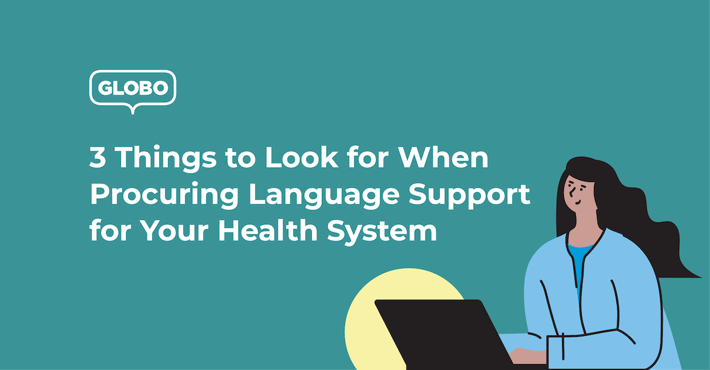 A language support partner directly impacts your health system's ability to meet patient and provider experience expectations, create efficiencies, and reduce costs.
With the right partner, you can streamline services and gain visibility into your linguistically diverse patient population, promoting more informed decision making. But finding the right language support partner isn't always a simple task.
To support you in your search, we've outlined three key competencies you should consider when evaluating a potential language support provider for your health system.
1. Linguist Quality
Effective communicators do more than just relay information. They help build relationships and trust, especially when it comes to supporting patients with limited-English proficiency. That's why you want a language support partner that requires linguists to have skills beyond just language competency.
Healthcare interpreters should also have a grasp of medical terminology and phrasing and a compassionate and professional demeanor when working with patients, and they should understand the nuances of healthcare privacy guidelines. When researching language access organizations or interpreting services, ask direct questions about these competencies.
2. Analytics and Visibility
Data and reporting tell a story beyond the anecdotal. To understand the true value your language support partner provides, you need to see that success through real-time performance metrics. Analytics can also help you ensure service levels are being met, identify trends, and identify opportunities for adding more robust language capabilities. If your health system's language partner isn't sharing data with you, you may be missing out on important information that can impact your bottom line and keep them accountable.
3. Partnership and Continued Improvement
The best language partner for your health system will always be looking for ways they can help you improve care experiences, reduce costs, and encourage better health outcomes for your linguistically diverse patients. That's why it's important for them to understand your mission and business objectives and to work with you as a true partner. You want a partner who understands the value of their services and "thinks outside the box" for ways to innovate and grow.
Whoever you partner with, it's important to make sure they have the ability to align their product roadmap to meet your needs and objectives. Partnering with a provider who has in-house engineering and the capabilities to pivot as needed (and has experience doing so in the past) will ultimately prove to be more like an extension of your team. Your partner should also have a willingness to invest their time with in you, so don't shy away from asking them to hold quarterly business reviews with your internal stakeholders.

In order to get the most out of your relationship, find a partner who makes every effort to align their internal roadmap to your objectives and goals. The right language support partner will not only be an asset to your health system technologically, but from a business development standpoint as well.
Ready to learn more?
Talk with one of our experts about what to look for when selecting the right language support partner for your health system.
Additional Resources: