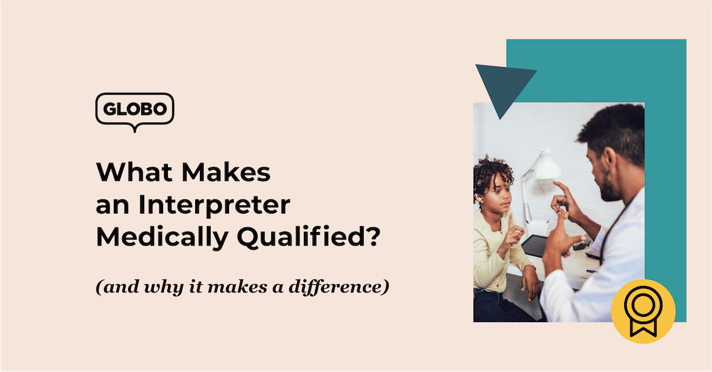 You wouldn't ask a dentist to do your taxes. So why would you ask an unqualified interpreter to communicate important health information to your patients?
Providing language access to your patients with limited-English proficiency (LEP) is critical to ensuring positive health outcomes and great experiences. If your language solution doesn't provide medically-qualified interpreters, all parties could be missing out on key information — jeopardizing your patients' health and the quality of care they receive.

So, what differentiates a medically-qualified interpreter? Why is having access to medically-qualified interpreters important, and what training and requirements should you look for when partnering with a language solutions provider?
As a starting point, it helps to understand the role of a medical interpreter and the various challenges that are unique to healthcare.
Medical Interpreting 101
Interpreters have a unique skill set that goes beyond merely having proficiency in two or more languages. The Americans with Disabilities Act defines a "qualified interpreter" as "… an interpreter who is able to interpret effectively, accurately and impartially both receptively and expressively, using any necessary specialized vocabulary." Qualified interpreters have passed skills-based assessments that prove their ability to interpret.
For those who are medically qualified, their language skills include a grasp of medical terminology and phraseology, and they must be skilled in communicating information directly, impartially and compassionately, with respect for patient confidentiality. Medically-qualified interpreters have been assessed and must follow the National Code of Ethics and Standards of Practice published by the National Council on Interpreting in Health Care.
Some LEP patients may rely on a family member with a higher level of English proficiency to act as an interpreter in these settings, but family members or friends may be too emotionally involved to be direct or may not fully grasp the medical terms. Providing a medically-qualified interpreter ensures correct interpretation of medical terminology and can improve communication between the provider and patient.
Why Medical Interpreting Makes a Difference
Providing a language solution that offers medically-qualified interpreters in every language ensures that your LEP patients receive the best possible care every step of the way, from scheduling and intake to treatment and follow-up care. Research supports the use of medically-qualified interpreters in reducing disparities, as well as in improving patient satisfaction and health outcomes.
In fact, one study found that LEP patients who had the benefit of using a medically-qualified interpreter:
Received more recommended preventive care services

Had more office visits with their healthcare providers

Filled more prescriptions for medications
By focusing on health equity and providing equal access to important services for all of your patients, you can ensure better medical outcomes and improved patient experience.
What to Look for:
Medical interpreting requires a nuanced set of skills supplemental to basic interpretation. Medically-qualified interpreters should demonstrate:
A strong proficiency in both the language they're interpreting from and the language they're interpreting to, as they need to be able to flawlessly interpret back and forth from patient to provider.

Familiarity with medical terminology and phrasing and an ability to convey medical concepts in plain language that the patient can understand and clarify as needed.

An understanding of healthcare privacy laws, ethics and professional responsibility.

A demeanor that is both compassionate and professional.
Medical interpreting requires a unique skill set. When looking to provide language access for your LEP and multilingual patients, make sure your language solution is equipped to provide your health system with interpreters who are familiar with medical terminology and meet the professional requirements of the healthcare industry.
The Details Are in the Data
There are several key performance indicators (KPIs) that may be reflective of your health systems use (or lack thereof) of medically-qualified interpreters:
Patient Satisfaction Scores - Health is personal. In order to provide the best possible care, the doctor-patient relationship should have an open line of communication. Research states that "effective communication is recognized as a priority across the healthcare continuum because it directly affects quality of care, patient safety, medical outcomes and patient satisfaction."
Connection & Handle Times - Your staff and providers should be able to access language support with no friction, as soon as they need it. Long connection and handle times are indicative of language support that may not have the resources or the capacity to meet your service levels.
Readmission Rates - Miscommunication plays a large role in adverse events and negative outcomes, with one study revealing that "LEP patients experienced a statistically significantly greater proportion of adverse events that were attributable to communication failure (52.4%) than did English speaking patients (35.9%)." If you're noticing heightened readmission rates from your limited-English or multilingual speaking patients, poor language support may be the culprit.

Finding the Right Partner
At GLOBO, we understand that communication is about more than just words. It's about respect, relationships and building trust. Our interpreters aren't just representing what you say, but your reputation, and we highly value our role in supporting you.
Interested in learning how GLOBO can provide your organization with vetted and medically-qualified interpreters? Start the conversation today.
Additional Resources: