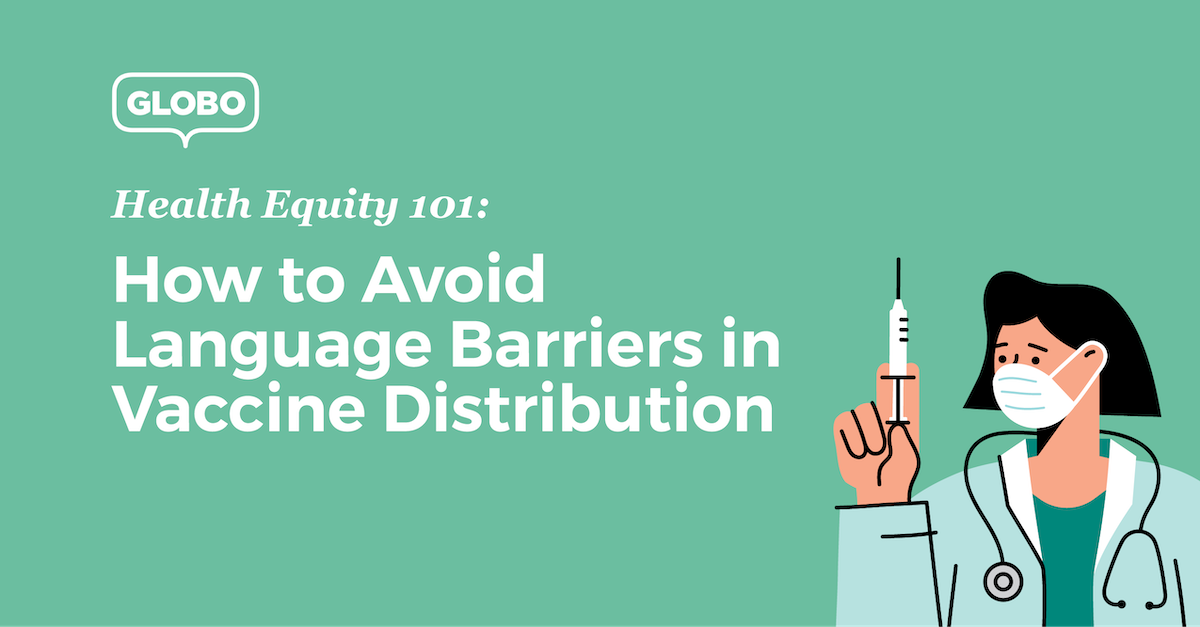 In December 2020, the U.S. began the largest vaccination effort ever taken in this country in order to protect people from COVID-19. Approximately 25% of the country's population has been vaccinated so far, but many residents remain in need of the vaccine.
Roughly 41% of the more than 61 million residents in the U.S. who speak a language other than English at home are considered limited-English proficient (LEP). These individuals represent as much as 8% of the total United States population over age 5. Unfortunately, the LEP population may be most at risk of being alienated from getting the necessary information about the COVID-19 vaccination due to local governments very rarely offering vaccine information in languages other than English.
Relay Critical Information
Studies show that LEP patients frequently don't get the critical care they need, with as much as 46% of emergency rooms never utilizing language interpretation for LEP patients. The health disparities among LEP populations can lead to everything from misdiagnoses to medical errors.
With the continuing threat of the coronavirus pandemic and ongoing efforts to vaccinate as many people as possible, it's critical for health services organizations to improve their language solutions in order to reach these vulnerable populations more effectively. All patients, no matter what language they speak, need to be informed about:
The availability of the COVID-19 vaccine

The vaccine options available to local populations

Who should and shouldn't get the vaccine

Vaccination protocols and what to expect
If LEP residents are not granted access to this vital information, many may never get vaccinated for COVID-19. Not only does this leave an already at-risk population even more at risk, but it also may impede upon the efforts to vaccinate as much of the population as possible. Therefore, efforts must be taken to offer adequate care to LEP patients amid the COVID-19 outbreak.
Eliminate Barriers to Access
With language services in place, healthcare providers can work to protect the LEP population and assist with reducing the spread of the COVID-19 virus. Language assistance should be an integral part of everyday operations at all vaccine distribution centers. To effectively support the LEP population, those managing vaccinations need access to comprehensive language translation and interpretation services.
To eliminate barriers to access for the LEP patients in the community, facility managers overseeing vaccination may also need things like:
Signs that are written in the community's common languages

Translated flyers, brochures, and other printed materials to hand out

A medically qualified interpreter on-site or available remotely to interact with patients as needed
In addition, targeted outreach efforts may be necessary, as many may assume visiting a site for a vaccine would involve too many language barriers to truly be beneficial. For example, it may be a good idea for printed, translated materials to be distributed at local community service operations to reach potential patients.
Language Accessibility When You Need It Most
During efforts to vaccinate as much of the population as possible for COVID-19, providers may need instantaneous access to language interpretation to meet the needs of each unique patient. No specific sect should be alienated from getting prompt information when they visit a vaccine provider. Omnichannel services which offer telephone and video interpreting, on-site interpreting, and translation are critical.
Telephone Interpreting
Telephone interpretation gives you and patients on-demand access to a linguist for immediate translation and quick communication. The best telephone interpreting solution will provide access to professional interpreters across hundreds of languages, virtually dissolving any language barriers that may exist between providers and patients.
Video Interpreting
Video interpreting allows for more visual assistance during patient interactions. For patients that may require sign language, video interpretation is especially valuable.
Translation & Localization
Providing translated informational materials about the vaccine, aftercare instructions, and notices of language assistance availability are critical to ensuring equal access. Any vaccine provider may also need general patient forms that LEP patients can understand, such as informed consent documents.
How We Can Help
GLOBO is a language support platform that specializes in offering 250+ languages across a full range of services to healthcare clients, insurance companies, government agencies, and more.
To find out more about how GLOBO can help ensure health equity through language access, reach out to us to request a free demo.