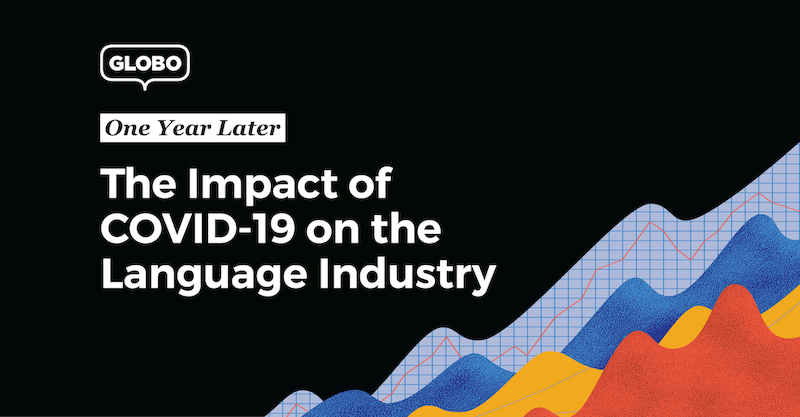 Last week marked the one year anniversary of the COVID-19 pandemic. Here's how it affected the language services industry.
As COVID-19 began to spread early last year, it disrupted every aspect of our lives and presented challenges across industries. In healthcare, insurance, and contact centers, high-quality communication with customers and patients was at risk as close interactions became virtually impossible. Interpretation services (like many other business services) that were once in-person had to shift to a virtual setting—quickly—and digital tools became an essential part of all language support solutions.
While we cannot predict the future, the dramatic shifts that have taken place over the past year can provide valuable insights into how things have changed during a short period of time. Here are the ways in which COVID-19 has shifted the language services industry and what they might mean for the future of language support.

Changes in Demand
Prior to the pandemic, on-site interpreting services were the default for many organizations. After March 2020, the rapid shift to a remote workforce was quick to affect language support services. No longer was it safe to be in close proximity to others to provide on-site interpreting, and many companies had adopted a remote workforce model. Because of these factors, the work of interpreters also went virtual. Now, the focus has shifted away from on-site/in-person interpreting toward toward telephone and video interpreting services, when possible.
In a survey conducted in April 2020, CSA Research observed these significant shifts in the type of translation services offered:
On-site and conference interpreting services were down 15% and 10% (respectively)

Over-the-phone interpreting was up 18%

Video conference interpreting was up 17%

Remote simultaneous interpreting was up 14%

Demand for medical interpreting was up 64%

Increased Need for Technology-forward Solutions
Technology-forward solutions in language support were gaining traction prior to COVID-19, but the repercussions of a virtual-first world increased the need for these solutions exponentially.
For companies like call centers, which are now largely operating remotely, effective cloud-based solutions are critical. The best technology seamlessly integrates with existing call center technologies, allowing in-house interpreters to operate efficiently to translate calls with limited-English speakers from anywhere. For call centers and other organizations without in-house interpreters, a full-service provider with cloud-based capabilities makes it easy for employees in any corner of the world to access the resources they need to communicate with those who require language services.
Legacy thinking is not productive for future growth. In the era of rapidly shifting workforce models, it's even more prohibitive. Technology-forward language solutions:
Are available on-demand through cloud-based platforms

Provide qualified interpreters for hundreds of language spoken worldwide

Offer language support in multiple formats, including telephone, teleconference, video conference, telehealth/telemedicine, and more

Are simple and streamlined, so anyone at your company can use them as needed

Provide high-quality reporting to allow you to visualize your data with real-time insights and identify areas where you need to improve language support




The Ability to Integrate with Virtual Meeting Platforms
In March 2020, the world went virtual almost overnight. The internet and existing tools made this not only possible, but highly effective. For many companies, what could have been a dramatic disruption was only a small speed bump as workforces learned how to navigate a virtual world of video conferencing in place of in-person meetings. While virtual communication tools are an essential part of the new workforce model (and likely to remain that way), they were not all immediately adaptable for language support.
Today, language solutions must be able to integrate with platforms for virtual meetings and virtual patient interactions, including Zoom, Doxy.me, and the myriad of telehealth platforms in use at healthcare facilities throughout the country. The ability to integrate with and quickly adapt to new technology will remain of utmost importance for language support in the coming years.

Reassessing Quality Standards
Quality should be high priority for any language service provider (LSP). For those who were not accustomed to a distributed workforce model prior to 2020, there may have been a period when quality fell into a grey area. Moving forward, organizations who are in the process of evaluating LSPs must be prepared to ask the right questions related to quality and processes. Highly qualified LSPs will have the tools, skills, and training to provide the level of quality and service you need.
Beyond the importance of ensuring high-quality language support to you and limited-English speakers, the ability to meet compliance standards is also essential. Organizations that operate in highly regulated industries such as healthcare and insurance cannot afford to work with an LSP who lacks the proper training and tools to meet (and exceed) compliance requirements.

Language Support in a Post-COVID World
With the right language support partner, you can continue to provide the highest level of language services to customers and patients, even in the midst of the COVID-19 pandemic (and beyond).
Want to learn more about our cloud-based platform, GLOBO HQ?