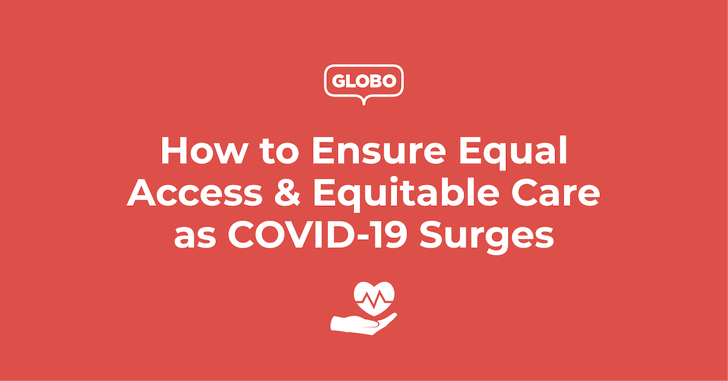 Disseminating accurate information to LEP patients is critical in preventing the spread of the coronavirus.
With the recent increase in cases of COVID-19, healthcare systems are taking every precaution to keep patients, staff, and providers protected from the outbreak.
Communication of information plays a key role in preventing the spread of the disease. It's especially critical when considering the 67.3 million people in the US population who primarily speak a language other than English. Ensuring this group has detailed and accurate information regarding the prevention and containment of the disease is critical.
Recent studies show that patients whose primary language is Spanish have a 35% greater risk of death from COVID-19.

Above:
Between July 15, 2021 and August 15, 2021, COVID-19 related hospitalizations increased by 334.24% (from 17,408 to 75,592). The number of people in the ICU due to COVID-19 increased 294.52% (from 4,874 to 19,229).
Source: The New York Times. Retrieved August 19, 2021.
Considerations
As the situation develops, take the following steps to keep your LEP patients healthy and informed:
| | |
| --- | --- |
| | Triage System |
| | Plan triaging for LEP patients through the reception desk. Prepare reception staff by training them on how to access interpreters and what multilingual resources are available for patients. |
| | Public Safety Materials |
| | Translate your organization's policies surrounding the virus in your community's top languages. Outline cleaning policies and other precautions your organization is taking to prevent the spread of the virus. |
| | Interpreting Modes |
| | Depending on the needs of the patient, consider Video Remote Interpreting and Telephone Interpreting as potential alternatives to On-Site Interpreting. Consult with your language support provider on the best practices for each interpreting mode. |
| | Telehealth Policies |
| | If you are utilizing telehealth appointments, provide staff and providers with the training needed for effective and efficient interpretation practices during telehealth calls. |
| | Signage |
| | Post resources at the entrance and throughout the facilities, both pictorial and multilingual, that explain the risks of having traveled from a high-risk country and/or having been in contact with someone who has traveled abroad in the last two weeks. Include information about symptoms and notices on the language services available. |
Be Prepared
Confirm your language services provider can provide support across the entire continuum of care (i.e., telephone interpreting for appointment requests, video remote interpreting for during the appointment, and translation support for consent forms, medication information, and discharge instructions), especially as your procedures may be changing. Additionally, as demand for remote care increases, ensure your telehealth solution is equipped to support limited-English speaking patients.
Extend Compassionate Communication
The news surrounding the coronavirus can be alarming and overwhelming -- especially for those who are unable to understand all of the information surrounding the outbreak.
Download our

free report

to disseminate the above information to your providers and staff: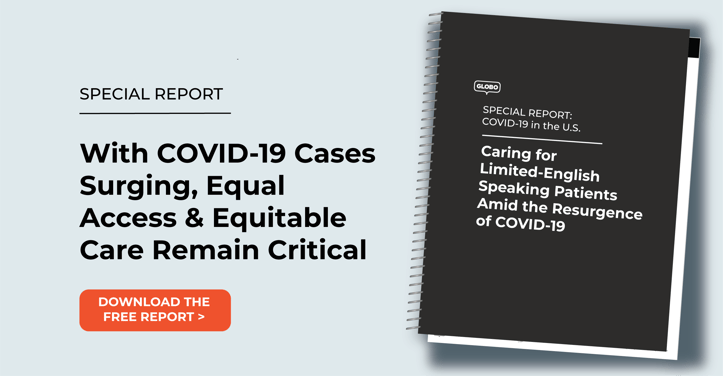 Need help navigating COVID-19 for your Limited English Speaking population?
We're here to help. Don't hesitate to reach out.