Blog
The ONC Cures Act: Impact on Patients, Providers & Facilities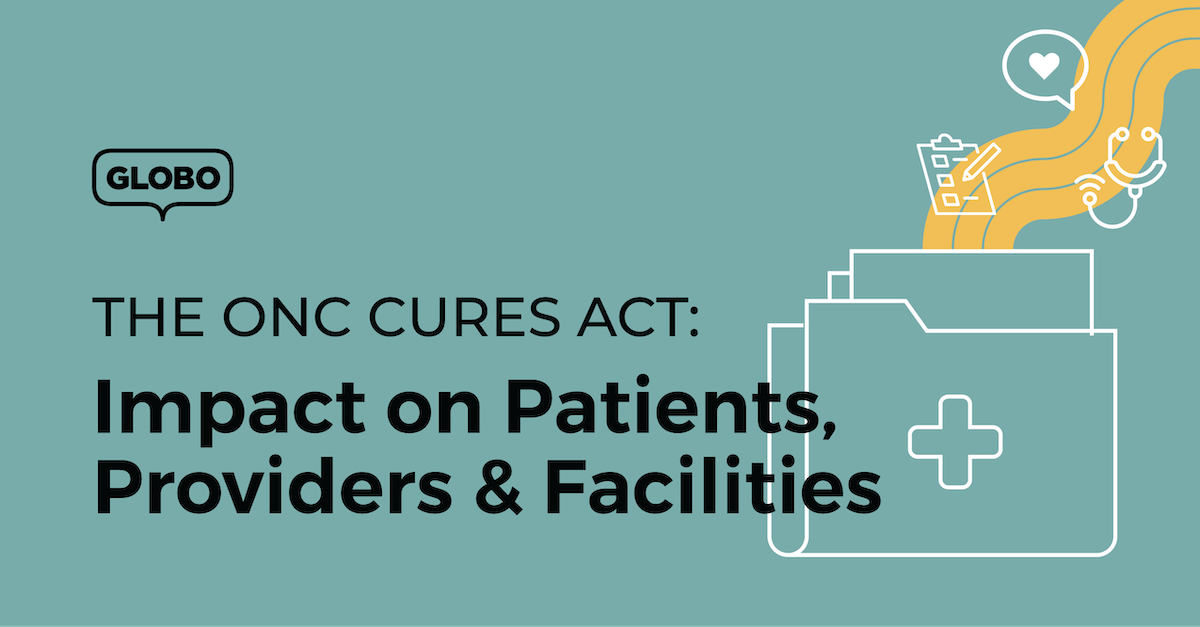 In May 2020, the Office of the National Coordination for Health Information Technology (ONC) published a final rule to implement the provision of the 21st Century Cures Act. Here's what it means for your organization and how it relates to language access.
The 21st Century Cures Act, signed by President Barack Obama in December 2016, is designed to:
Increase patient choice

Improve access to care

Streamline drug development and delivery

Address the opioid crisis

Improve mental health services
A key aspect of the law is the focus on accelerating technological developments that improve patient care and eliminating barriers that prevent information exchange for electronic health information (EHI).
The ONC and Centers for Medicare and Medicaid Services (CMS) created two sets of rules on interoperability, patient access, and preventing companies from interfering with or blocking EHI sharing. Technology vendors, payers, and providers can use these rules as guidance in designing and implementing health IT systems.
Why Now?
Many healthcare organizations, providers, and companies recognize how important technology is for improving care. It gives patients access to more information to empower them in making better healthcare decisions. This will help the U.S. healthcare system move toward a value-based system, where patients are able to access the right care in the right place at the right time.
The ONC's overview of the Final Rule says:
"The patient is at the center of the 21st Century Cures Act. Putting patients in charge of their health records is a key piece of patient control…[which is] at the center of HHS' work toward a value-based care system."
About the Final Rule
Entrepreneurs and IT developers are introducing technologies that promise better access to care and more transparency in cost and outcomes. The ONC's Final Rule supports these innovations and provides a framework to ensure that everyone in a healthcare system can seamlessly and securely share information to improve patient care.
Timeline
The initial effective date for the Cures Act was set for June 30, 2020. The timeline for certification and information blocking activities spans three years:
- 2021 -
April 5:
Developers are prohibited from restricting certain communications, and compliance requirements begin for certification on information blocking, assurances, and APIs
April 5:
Applicability date for Information Blocking provisions*
December 15:
Developers must submit initial real-world testing plans
- 2022 -
April 1:
Developers must provide the first attestation to conditions of certification required
December 31:
Developers must make the new HL7® FHIR® API capabilities and other Cures updated criteria available
- 2023 -
March 15:
Developers must submit initial real-world testing results
December 31:
Developers must make EHI export capability available
*Because of the significant impact of COVID-19, the ONC revised the information blocking applicability date. The definition of EHI is limited to EHI identified by "data elements represented in the USCDI" through October 6, 2022.
What Does It Mean?
The ONC's Final Rule has a lot of technical language and specific requirements. Let's break down how it will apply to patients, providers, and facilities.

For Clinicians and Hospitals:
Hospitals, outpatient clinics, and providers maintain patients' healthcare information. They have a responsibility to make sure patients can access that information in a way that is easy and affordable.
The ONC Final Rule outlines providers' responsibility to provide access to healthcare information in the app of the patients' choice. Developers are responsible for creating secure, standardized application programming interfaces (APIs) to make this possible without added cost or effort for clinicians.
Developers are also responsible for creating open APIs, so clinicians and providers have a broad range of choices when selecting the right software applications for their practice. APIs must be "safe, secure, and affordable."
One of the key provisions of the Final Rule is to prevent information blocking — that is, any technology restrictions that make it harder for patients to access and share their medical information. However, there are some exceptions for providers in situations where information blocking will protect patient privacy and improve data security. There are also exceptions to data sharing when it's not technically possible to do so.
Lastly, providers are instructed to improve transparency around:
Cost

Patient safety

Quality
This information can help patients make better decisions about where to go for care. However, the rule recognizes that there is a balance between complete transparency and protecting proprietary information in health IT interfaces and workflows. Physicians and hospitals have some flexibility to protect that type of information.

For patients:
The ONC's Cures Act Final Rule outlines three key objectives for patients:
Health records:

Patients should have easy access to their medical records online or through the app of their choice on a smartphone.

Privacy and security:

Electronic medical records should be protected with the highest level of data security to protect patient privacy. Patients should be able to access all their health information through apps.

Transparency:

Patients should have a choice in where they go for care, but can only make those decisions when they have accurate information about cost and quality to compare. Technology should make this information available so patients can make decisions about the best and most affordable care.

Language Support & the Cures Act: What to Know
As the healthcare industry moves toward patient-centered care models, providers must not forget about how these advancements impact patients with limited English proficiency (LEP). Today, LEP patients account for more than 8% of the population, and in some areas, the total is much higher.
The ONC Cures Act Final Rule makes it clear that patient choice and access are a high priority. As facilities and providers implement changes that make patient records more accessible and more secure, they must ensure that LEP patients have the same access and security in their native language. To offer that, clinics and hospitals should partner with a language support provider that can:
Translate medical records into multiple languages, improving patients' ability to understand their care and

advocate for safe, effective care

Provide real-time interpretation when patients contact a provider's office or clinic to request access to their medical records

Offer 24/7 access to

qualified medical interpreters

and IT support personnel

Prove it is fully HIPAA compliant with the highest level of data protection and security to protect patient privacy

Offer software that is ISO certified for quality and can seamlessly integrate into your existing systems

Provide

powerful reporting tools

to help you understand your language support system and improve your services



---
Looking for guidance? GLOBO can help.
As the leading language solution for healthcare systems, our language access experts are equipped to . Find out more about our translation and interpretation services with qualified medical interpreters in more than 250 languages by requesting a demo today.
Additional Resources:
No Legal Advice and Disclaimer to Accuracy of Information
The information in this webpage is for informational purposes only, and is not legal advice, regulatory advice, and/or a substitute for legal and/or other expert counsel. The information on this page is not guaranteed to be correct, complete or most current, and should not be relied upon as such. Nothing on this page should be used as a substitute for the advice of competent legal counsel.
Stay up to date.
Stay connected with tips, resources & stories on language access.