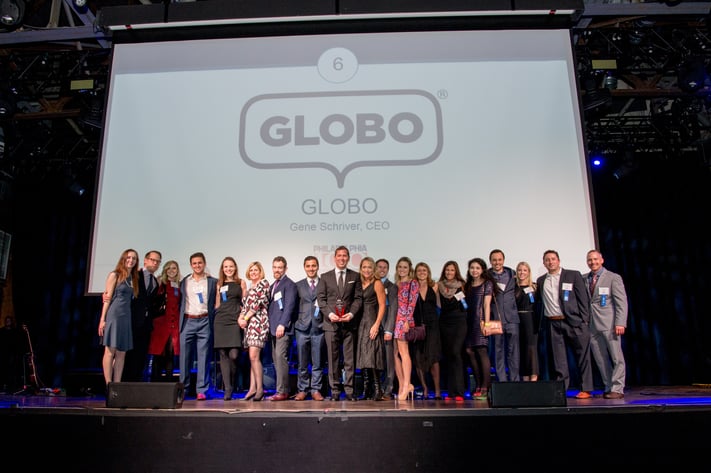 GLOBO Ranked Sixth Fastest Growing Company in Philadelphia Area
Philadelphia 100 Awards GLOBO for Outstanding Growth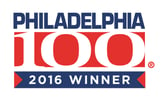 Philadelphia, PA (October 28, 2016) – GLOBO, a leading language technology and services provider, ranks as the sixth fastest growing company on the Philadelphia 100®, a project by the Wharton Small Business Development Center and the Entrepreneurs' Forum of Greater Philadelphia. Due to an impressive growth rate over three years, GLOBO lands on the Philadelphia 100 for the third year in a row.
"The Philadelphia region has nurtured many amazing companies and we are proud to be part of that legacy," Gene Schriver, CEO and founder of GLOBO. "Every day we strive to power conversations between companies and their consumers – in any language, around-the-clock, instantly and seamlessly. That could not happen without the local support of Philadelphia, our employees, partners and world-class linguists."
Through GLOBO's revolutionary cloud-based platform, GLOBO HQ™, organizations have the ability to access a comprehensive suite of translation and interpreting solutions powered by technology plus thousands of vetted, professional linguists, in order to interact with customers.
GLOBO's robust data and insights into linguistically diverse populations also help enterprises penetrate these fast-growing market segments. GLOBO's full range of omni-channel services include on-demand telephone interpreting, video remote interpreting plus email & chat translation, as well as project-based marketing transcreation, text translation, localization and on-site interpreting.
Last month, Inc. Magazine ranked GLOBO as the 118th fastest growing company in the nation on the 2016 Inc. 5000|500 list, an exclusive ranking of the nation's fastest-growing private companies.
About GLOBO: GLOBO is a B2B provider of translation technology, services, data and insights. GLOBO's roster of customers includes the U.S. government, health and personal lines insurance carriers, banks and mortgage lenders, pharmaceuticals and CROs, mobile gaming and tech companies. GLOBO also provides language support for large global events, most notably providing live interpretation in six languages for the worldwide broadcast of Pope Francis' public appearances during his U.S. visit for the World Meeting of Families. For more information, please visit the company's website at www.helloglobo.com


About The Philadelphia 100: The Philadelphia 100 has been the hallmark of entrepreneurial achievement in the region since 1988. The project, which is run by the Wharton Small Business Development Center and The Entrepreneurs' Forum of Greater Philadelphia, identifies and honors the 100 fastest growing, privately held entrepreneurial companies in the Greater Philadelphia Region. The Philadelphia 100® is based on demonstrable revenue growth documented by federal tax forms or audited financial statements. For a complete list of 2016 winners, visit www. Philadelphia100.com
MEDIA CONTACT:
Paula Stout
paula@helloglobo.com
+1 650.283.6727