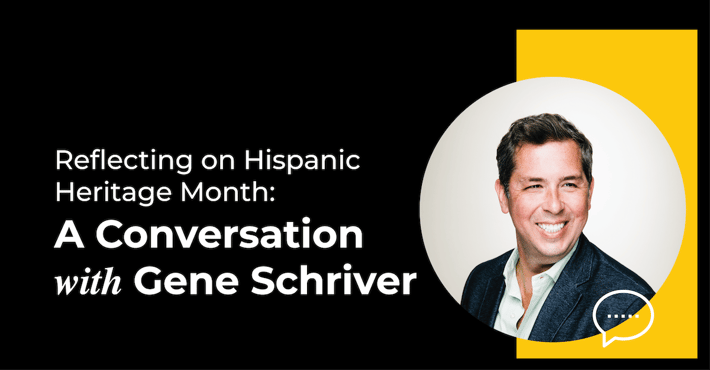 In honor of Hispanic Heritage Month, we sat down with GLOBO's Founder & CEO Gene Schriver to discuss his experience as the son of an Argentine Immigrant.

On growing up influenced by two distinct cultures:
I learned Spanish and English simultaneously. My Argentine grandmother came to the U.S. and lived with us for the first couple years of my life. Between her and my mother, I heard as much Spanish as I did English — possibly even more.
Although I learned Spanish early on, I later started to reject it. During that point in time, it felt like speaking Spanish wasn't widely accepted by my peers at school. I have a near-native accent, but I'm not fluent — I regret not holding onto it.
Because we had the opportunity to visit Argentina a few times, I got to see a culture that was significantly different from the U.S. early on in my life; it was very different from the culture that most of my peers were experiencing. The fact that I had access to this whole other world was both extremely fun and eye-opening. Argentina was very family-oriented — people got together all the time and had long meals that sometimes lasted hours.
On how organizations can foster a more inclusive environment:
As cliche as it sounds, the U.S. truly is a melting pot — we have the second-largest Spanish-speaking population in the world (second only to Mexico). It's critical to encourage people to find the common threads we share while still recognizing the unique places people come from.
At Breakthroughs 21, we talked about how during conversations, understanding a person's culture is just as important as accurately interpreting their message. It's been proven that empathy can be taught, so there are many things organizations can do to create an accepting and empathic environment. Training on cultural competence and awareness is a great step to take.
On his hope for the future of language support:
Equality is multifaceted. One of the most central ingredients for equality is the ability to communicate — without it, how can we possibly have productive and inclusive discourse?
But currently, not everyone has access to the tools and resources needed to communicate. So my hope is that one day, every single person who needs language support has access to it. Everyone — no matter their economic or social status — globally. That's what creates true equality. Without that, there is still a marginalized segment of the population.
---
About Hispanic Heritage Month
The idea for Hispanic Heritage Month, celebrated throughout the latter half of September and the first half of October, began as a way to promote the history, culture, and contributions of Hispanic-Americans — specifically, those whose ancestors came from Spain, Mexico, the Caribbean, and Central and South America. During the month, communities mark the achievements of Hispanic and Latino Americans with festivals and educational activities.