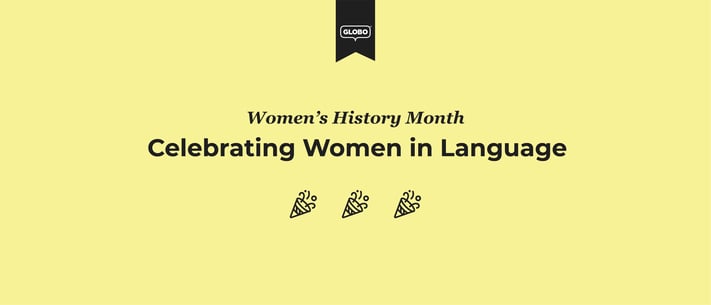 Across literature, music, film, and more, linguists are vessels for communication across cultures.
Their work has enabled us to live in a world where language barriers no longer exist and people from across the world can connect, no matter what language they might speak.
In honor of Women's History Month, we're celebrating five linguists who have shaped (and continue to shape) the way we're able to experience various cultures from around the world.
Anne Le Fèvre Dacier
Dacier was a French translator, scholar, commentator, and editor of classic literature. The first female translator to translate Homer's work, The Iliad (1699) and The Odyssey (1708), into French, Dacier's work inspired proponents of female education for centuries to follow.
Barbara Mooyaart-Doubleday
Mooyaart-Doubleday introduced the English-speaking world to The Diary of a Young Girl (also known as The Diary of Anne Frank). Published in 1952, her version has been used as the primary source for translating the diary in over 50 languages.
Fernanda Pivano
Pivano completed her first translation of Edgar Lee Master's Spoon River Anthology in 1943. She was responsible for Introducing Italian audiences to Ernest Hemingway, F. Scott Fitzgerald, Dorothy Parker, William Faulkner, Jack Kerouac, Chuck Palahniuk, Richard Wright.
Amber Galloway-Gallego
Galloway-Gallego, a hard-of-hearing American Sign Language interpreter, gained notoriety after a video of her interpreting for Kendrick Lamar at the 2013 Lollapalooza music festival went viral. She has since interpreted for over 400 artists, including the Red Hot Chili Peppers and Snoop Dogg.
Sharon Choi
Audiences everywhere fell in love with Sharon Choi, interpreter for the now Oscar-winning director Bong Joon Ho's interpreter, during the 2019-2020 awards season. Choi is an aspiring film director herself, and first began interpreting for the 'Parasite' director in May 2019 for the Cannes Film Festival circuit.
---
About GLOBO
At GLOBO, we're journeying toward a future where everyone has the same experience no matter what language they speak. With GLOBO, Telephone Interpreting, Email & Chat Translation, Document Translation and more live in one place. Gain unprecedented visibility into usage and trends. Communicate in over 250 languages. Join the revolution and provide better experiences (for everyone).
Looking for a partner to increase access?