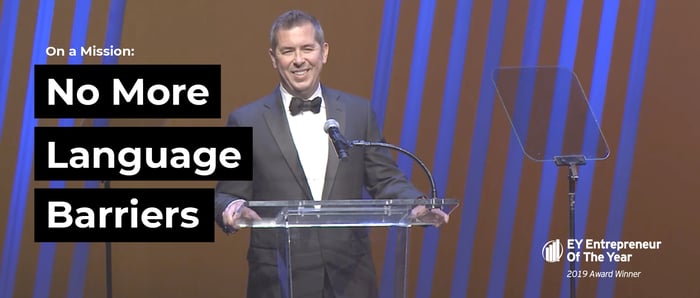 GLOBO's CEO Gene Schriver believes the future is empathetic and you should, too.
This year, Schriver took home the EY Entrepreneur Of The Year® Award in the Technology category in Greater Philadelphia. The award recognizes entrepreneurs demonstrating strong financial performance who are innovating to create positive change in the world. Schriver, who founded GLOBO in 2010, received the award for disrupting the translation services industry with the mission to eradicate language barriers between businesses and millions of limited-English speaking consumers.
Watch Gene's Acceptance Speech:
Read the Transcript:
"In this moment, I can't help but think of my grandmother and something she used to say to me. It was often the buzzer, but she didn't say it in English. She only spoke Spanish, but she used to say these words to me all the time and I'm really feeling them right now, and they are: 'Creo que me acabo de orinar,' which roughly translates to, 'I think I may have just peed myself.'
My grandmother was an immigrant and immigrants have it tough, we read about it in the news just about every day lately. But when you think about it, immigrants are the true startups. An immigrant lives the ultimate entrepreneurial experience; they often leave everything behind and take great risks to build something new, something better, something meaningful. And I'd encourage everyone in this room to try to connect to your own family's immigrant story, because everyone has one — whether it's you, your parents, your grandparents, or whether your ancestors landed on Plymouth rock — because connecting to your own immigrant story will allow you to have empathy for those who are living through it right now, and we must embrace those who are also seeking a better life and who are willing to work for it.
"At GLOBO, we believe the future is empathetic and we work everyday to try to make this world a better and more inclusive place by breaking down language barriers and giving people better access to healthcare, banking, government, and essential services."
I accept this award on behalf of the brilliant team that I work with at GLOBO, some of whom are here tonight, including Amanda Poston, Katelyn O'Brien, Jonathan De Jong, Matt Schuh, Matt Webb, Francesca Mayr, Agustina Gomez Beret, Meg Ruthenberg, and David Peters. I'd like to thank my wife, Amanda, and my three beautiful daughters, who are with me tonight, for teaching me love and courage every day. It is them who had to learn that the startup life means that getting paid is a luxury and not a right. I'd also like to acknowledge my fellow nominees. I know how hard it is to get here. So hats off to you and your continued success.
In the translation business, it goes without saying that we love other languages. In fact, the word entrepreneur is a French word — it's a tough word to say. I like it, but tonight I'm going to choose to have a little bit of another French word, and that's champagne. Thank you all very much."
As a Greater Philadelphia award winner, Gene Schriver is now eligible for consideration for the Entrepreneur Of The Year 2019 National Awards. Award winners in several national categories, as well as the Entrepreneur Of The Year National Overall Award winner, will be announced at the Entrepreneur Of The Year National Awards gala in Palm Springs, California, on November 16, 2019. The awards are the culminating event of the Strategic Growth Forum®, the nation's most prestigious gathering of high-growth, market-leading companies.