Blog
[Case Study: NEXON M] Improving Customer Experience with Multilingual Email Support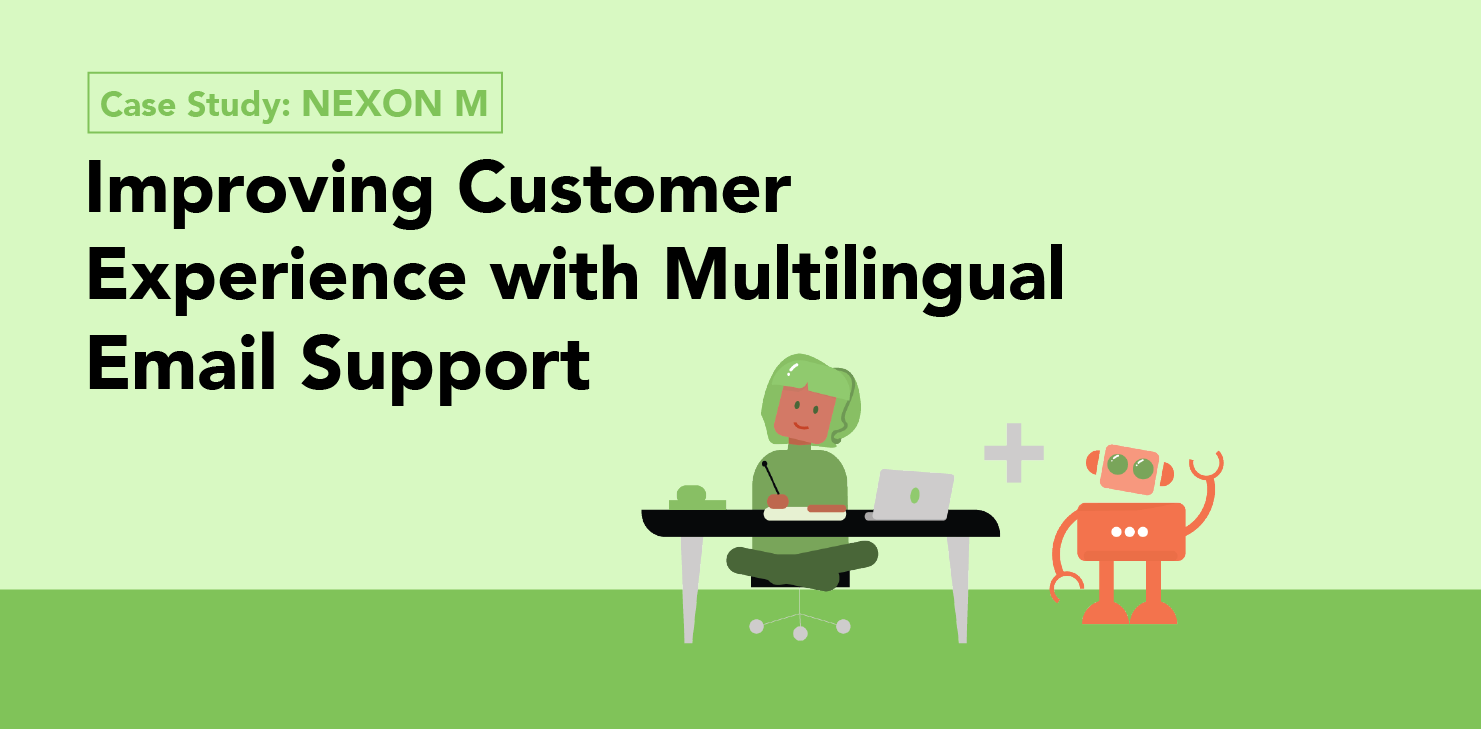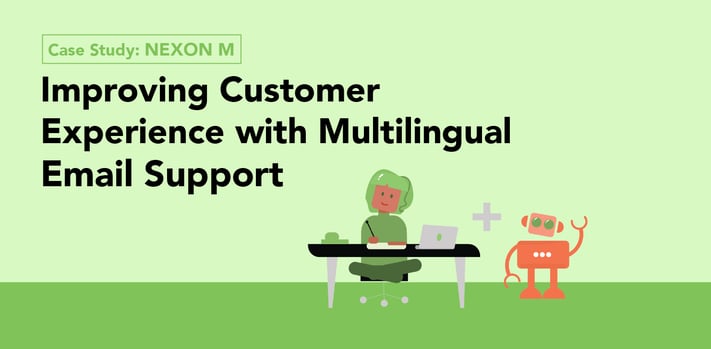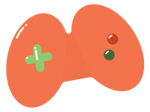 Meet NEXON M: NEXON M is a mobile game developer and publisher based in the San Francisco Bay Area. NEXON M focuses on free-to-play mobile games, which can be traced back to its roots as a subsidiary of NEXON Corp., Korea's largest game company and one of the ten largest game companies in the world.
NEXON M was faced with a backlog of 12,000+ support tickets in non-English languages, nearing 60 days without response.
NEXON M partnered with GLOBO to equip its customer support team with near-real-time human translation services.
In 45 days, NEXON M resolved all 12,000 non-English support tickets and returned to its 24-hour service level across all languages.

The Challenge: A Growing Need for Global Support
After the successful launch of DomiNations in April 2015, NEXON M saw an uptick in email support center activity, specifically among non-English speakers. While their customer support team was equipped to deliver answers in English, inquiries in other languages didn't have a clear path for resolution.
Escalating non-English inquiries, many of which were nearing 60 days without response, made it clear that NEXON M's current "solution" – a handful of multilingual team members and free translation tools – simply wasn't cutting it.
This triggered the NEXON M team to reach out to their professional networks in search of flexible translation services that could provide fast turnaround and adapt to the company's growing needs. GLOBO was immediately recommended for its on-demand, human translation solution, and ultimately contracted to help support NEXON M's global customer base.
Why NEXON M Selected GLOBO:

Efficiency:

GLOBO's inclusive set of intelligent translation solutions – professional human linguists and computer-assisted translation (CAT) tools – ensured both accuracy and efficiency of all customer-facing messages.

Scalability:

GLOBO's vast network of professional linguists and flexible service model enabled NEXON M

to easily add new languages to their plan, providing them with the flexibility to meet unpredictable language demands.

Simplicity

: GLOBO's user-friendly language management platform, GLOBO HQ, was easy for NEXON M's customer support team to navigate and provided a solution that seamlessly integrated with their existing processes.
As NEXON M kicked off its partnership with GLOBO, Chris Whittington joined the team as the gaming company's Associate Director of Community & Customer Support. His first task at hand: addressing the 12,000 unanswered customer support tickets the gaming company had accumulated in non-English languages.


The Solution: Email Translation with Unprecedented Speed and Quality
GLOBO's on-demand translation solution was easy to integrate into NEXON M's existing processes, and after a speedy two-week implementation, NEXON M was live with on-demand translation support in its top five non-English languages (German, Spanish, French, Portuguese and Russian).


---
"I can't think of another tool I've used, especially one of such importance, that was as easy to get rolling as GLOBO's platform"
- Chris Whittington, NEXON M Community and Customer Support Director

How It Works
GLOBO's on-demand translation solution combines human translation, translation memory, machine translation, language detection, and other translation technology to enable NEXON M's customer support team to communicate with gamers across languages.

Through GLOBO HQ, customer support reps facilitate the translation process behind the scenes, allowing them to communicate directly with non-English-speaking customers.


---

Multilingual Inquiry:
When a customer support rep receives an email or support ticket in a non-English language, the rep enters the message into GLOBO HQ for translation.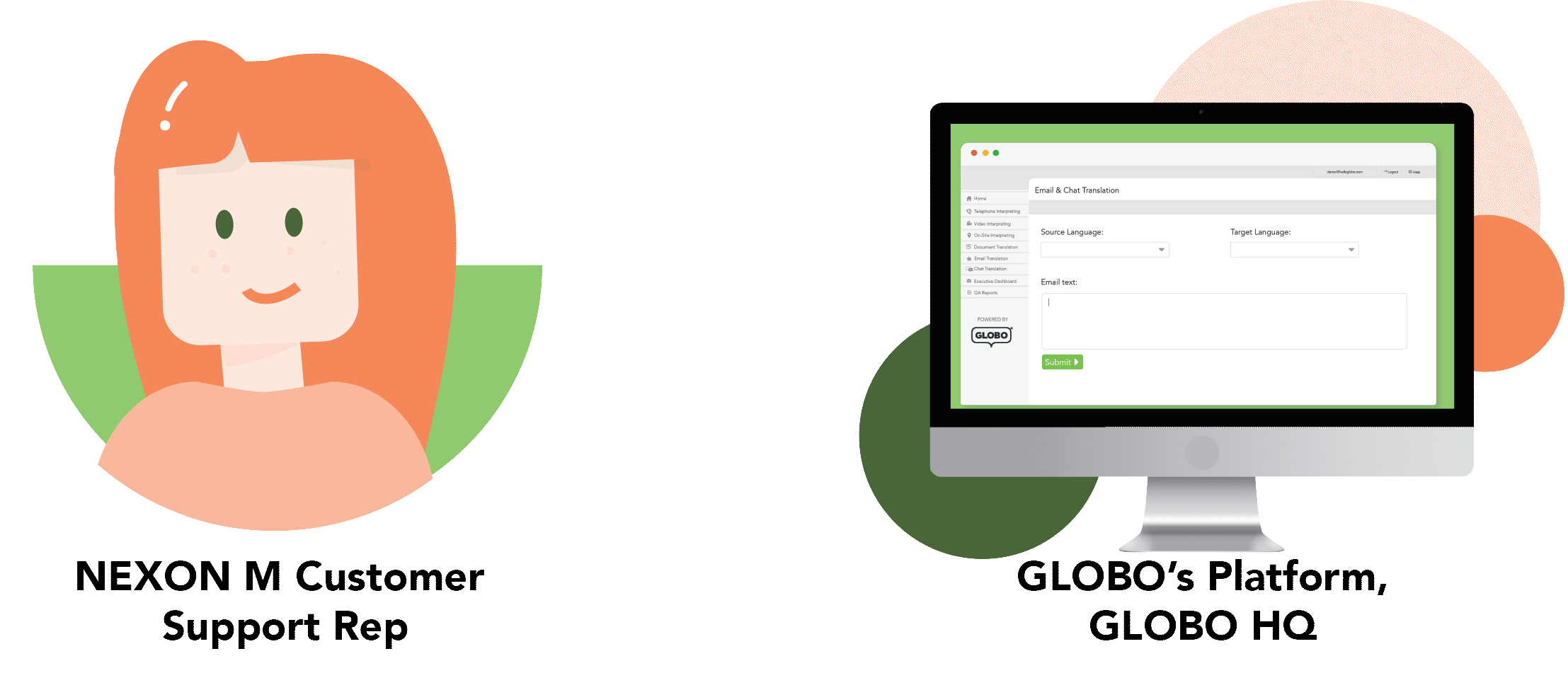 ---
Human + Machine Translation:
Behind the scenes, the message is routed to a professional translator who, with the help of computer-assisted translation tools, quickly translates the customer inquiry, as well as the rep's response.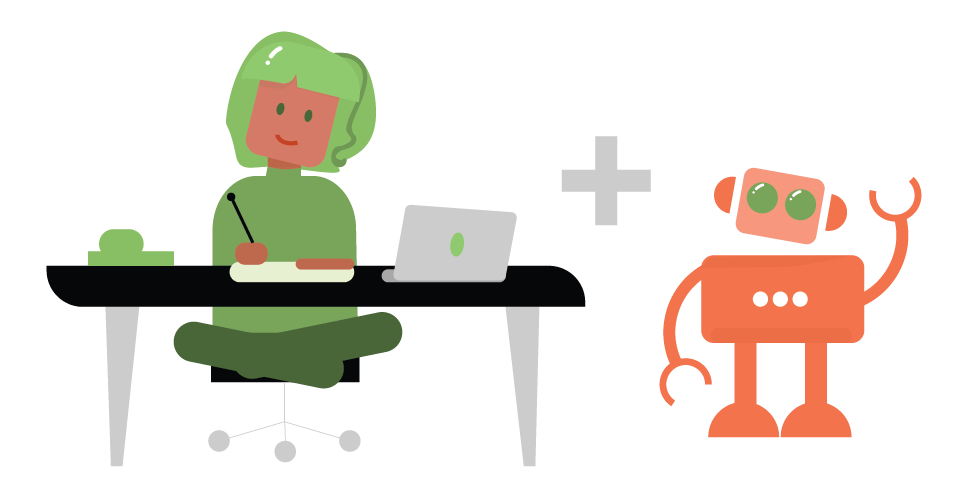 ---

Customer Interaction:
The customer support rep can then respond directly to the customer in their native language, providing a seamless experience for both parties.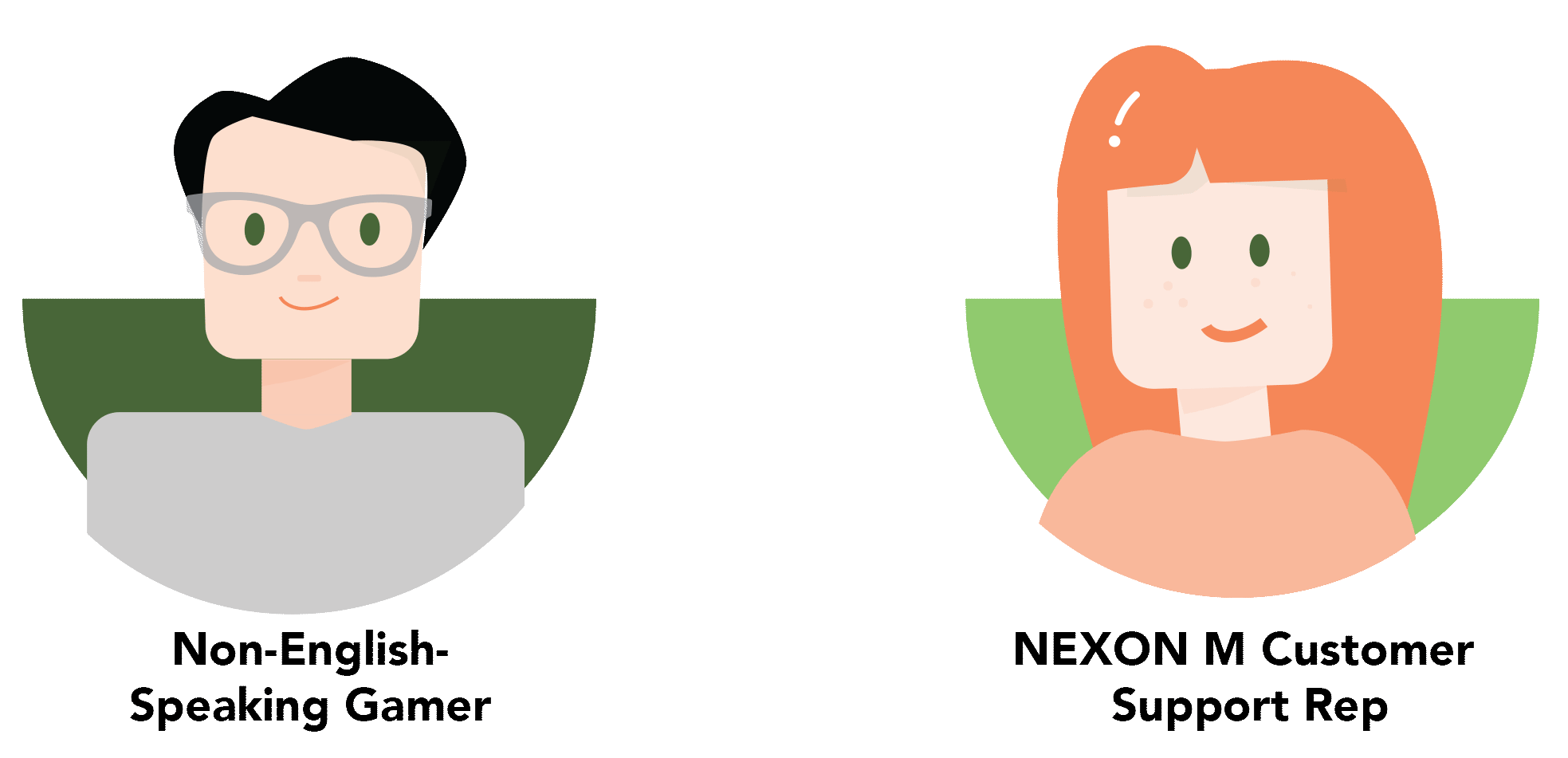 ---

GLOBO's flexible solution enables NEXON M to leverage different translation workflows in order to deliver the best possible experience for both the customer and customer support rep.
For example, customer experience is really important to NEXON M, so all customer-facing messages go through a workflow that includes human review by at least one professional translator. This ensures all translations are accurate, and take into account nuance of language, voice and tone.
Enhancing the User Experience with Human-powered Translation
When NEXON M's CFO questioned why they were no longer using Google Translate to respond to customers, Whittington provided a demonstration. By comparing two translated messages – one by Google Translate, another by a GLOBO linguist – Whittington helped the CFO understand the importance of human review. Subtle nuances and intention tend to get "lost in translation" when left up to machines only, but GLOBO's human translators ensure accuracy and clarity while noting cultural subtleties.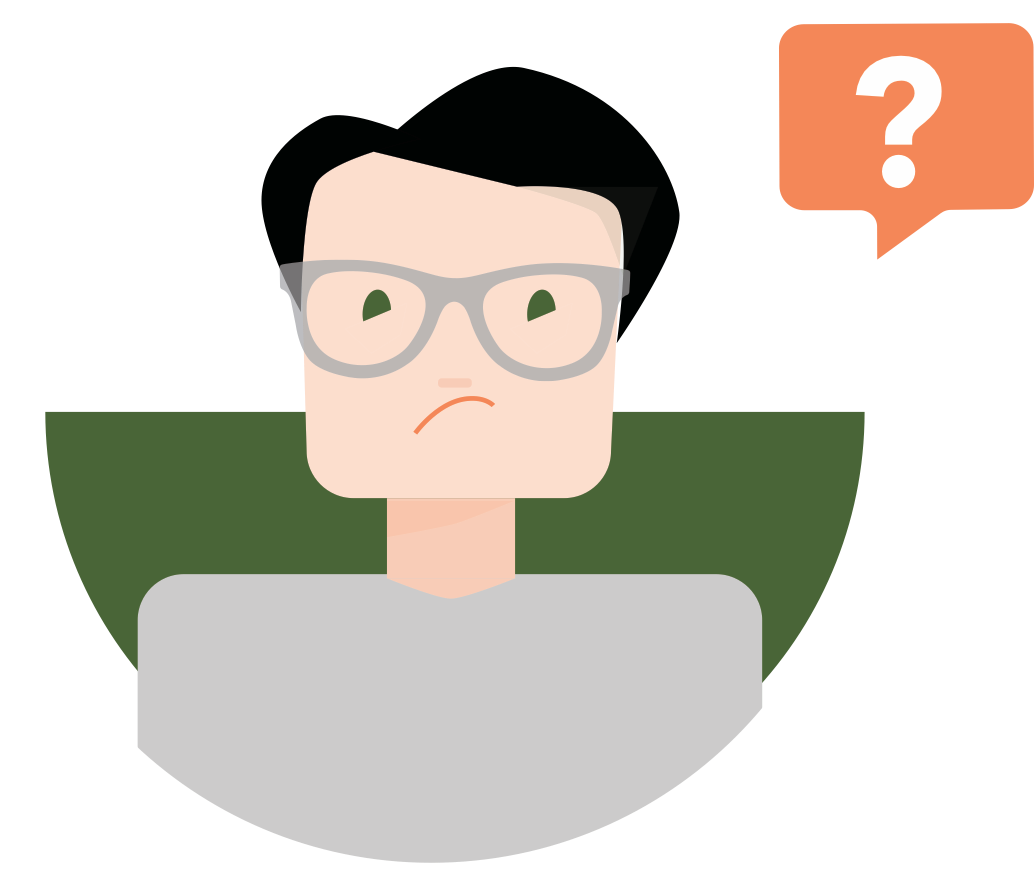 To promote efficiency, machine translation (MT) can be incorporated into certain workflows where complete accuracy isn't critical. For example, MT could be used to translate a customer's initial inquiry where the support rep only needs enough context and understanding to respond. Then, human translation can be used for the support rep's reply where it's important that the message is accurately communicated.
Translation memory provides NEXON M with further efficiencies (and cost savings) by leveraging previously translated content to pre-translate repeated or similar content before routing to a professional linguist. Reducing the amount of new words that need to be translated reduces turnaround times, enabling NEXON M's customer support team to address customer inquiries more efficiently.


The Results: Seamless Customer Experience Across Languages
In just 45 days, Whittington and his team were able to resolve all 12,000 non-English support tickets, and get back to NEXON M's normal 24-hour service level.


---
"With a heap of support tickets that size, it would typically take around 90-120 days to get service levels back to 'just okay.' It was a tremendous deal to achieve this in half the time expected using GLOBO's awesome solution."
- Chris Whittington, NEXON M Community and Customer Support Director

GLOBO's speedy turnaround times, which account for only 2% of NEXON M's published customer response service levels, enabled NEXON M to provide non-English-speaking gamers with the same level of support as English speakers.
Long-Term Value:
Smarter Decision Making: Usage trends and population insights available through GLOBO HQ help NEXON M make data-driven decisions to better support their multilingual customers. After initially launching service in 5 languages, NEXON M expanded support to include additional languages based on insights acquired through the platform.

Enhanced User Experience:

Human review of all customer-facing messages ensures accuracy, nuance of language, voice and tone.

Whittington explains, "Being able to address someone in their localized language – human to human – is huge. It makes a real difference for our users."

Improved Scalability:

GLOBO's flexible service model enables NEXON M to scale quickly, while avoiding fixed overhead costs associated with staffing a multilingual operations team. According to Whittington, hiring multilingual agents can cost up to three times as much as English-speaking agents.
As NEXON M continues to grow, Whittington trusts GLOBO to support their evolving language support needs. "What I value most is the people. I truly feel that this is a partnership," said Whittington.
Stay up to date.
Stay connected with tips, resources & stories on language access.