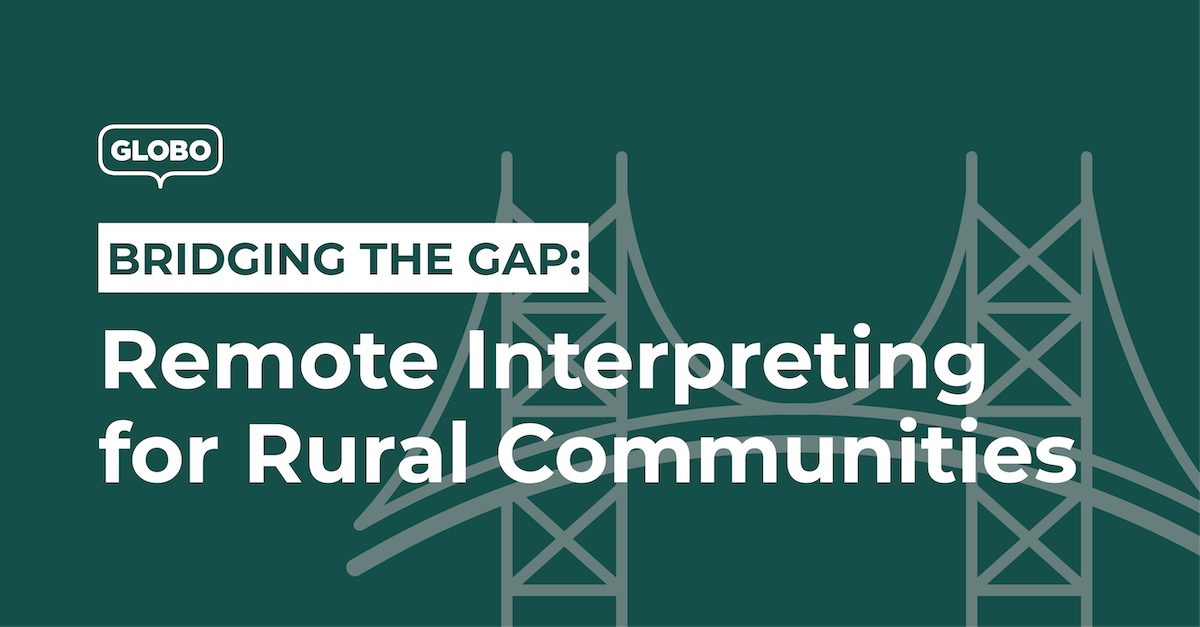 About one in five Americans live in rural communities today, with rural counties experiencing a growing immigrant population.
Pew Research found that the percentage of immigrants in rural counties grew by 33% since the year 2000. As such, the need for remote interpreting services for patients with limited-English proficiency (LEP) in rural communities is on the rise.
For LEP patients living in rural counties, the language barrier makes accessing quality healthcare services even more challenging. Even if they can find a facility or provider in their area, if someone there does not speak the person's native language, they may struggle to get the care they need.
In 2017, the Sheps Center at the University of North Carolina published a report about the limited number of care providers in rural communities. These areas tend to have fewer primary and specialty care physicians and fewer mental health care providers. Around 40% of the nation's hospitals are in rural areas, but more than 138 of them have closed since 2010.
Rural residents must travel farther to find care, presenting a significant barrier to access. This contributes to worse health outcomes and higher levels of chronic and preventable diseases in rural areas.
How Remote Interpreting and Telehealth Can Bridge the Gap
Telehealth makes healthcare more accessible for patients living in remote or rural areas where there are no physical clinic locations nearby. With the increase in HIPAA-compliant video conferencing platforms, telehealth provides crucial benefits for LEP patients living in rural communities:
1. Eliminates Transportation Barriers
According to a report by the American Hospital Association, lack of reliable transportation prevents more than 3.6 million people from receiving healthcare each year. It affects people living in poverty and elderly patients at even higher rates. Living in a rural community can increase transportation barriers, but even if a patient has access to transportation, they may not be able to travel long distances to seek care. Telehealth services eliminate the need to travel to seek a wide range of health services.
2. Provides Access to Primary Care Physicians and Specialists
Telehealth also increases access to providers, many of whom practice and work in hospitals or clinics located in more populated urban and suburban communities. With a HIPAA-compliant platform, a device, and an internet connection, doctors can provide several types of care, including:
Chronic disease management

Urgent and emergency care

Primary care

Home monitoring

Long-term care
3. Makes Healthcare More Affordable
Millions of patients go without necessary healthcare because they cannot afford it. Telehealth can provide more cost-effective care with or without insurance. Many providers offer lower flat rates for telehealth visits. It can also eliminate travel costs, such as gas, lodging, and time away from work for someone who lives in a rural community.
4. Offers Care in Someone's Native Language
Telehealth that incorporates the ability for remote interpreting makes it possible to offer medical and mental health care virtually in someone's native language. This reduces the chance of adverse medical outcomes for someone who does not understand English well enough to communicate with care providers.
Addressing LEP Patient Needs for Telehealth
As you prepare to offer services to LEP patients, it's important to look at the entire patient journey so you can have interpreting services available at each step. That includes:
Scheduling

Intake or check-in

Appointment

Payment

Follow-up care
Contact GLOBO today to learn more about how our technology and services can help you reach LEP patients in rural communities. Together, we can bridge the gap in the quality and accessibility of healthcare in these areas.