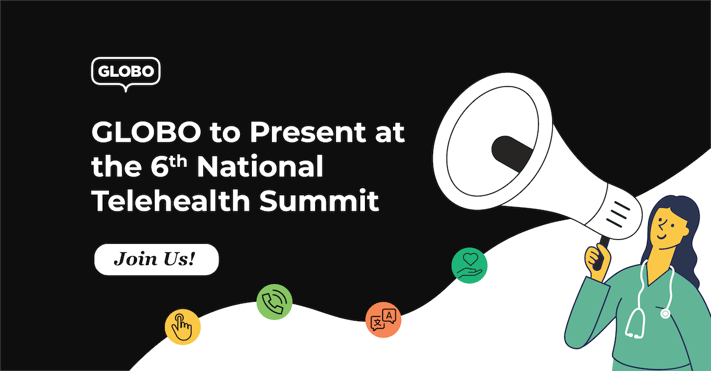 GLOBO will join BRI Network's 6th National Telehealth Summit next week and is set to present: "Including Telehealth in Your Language Access Plan."
About the Summit
Telehealth today is revolutionizing healthcare delivery through improved patient outcomes, reduced costs, and the ability to deliver the right care at the right time. Telehealth is continuing to advance and expand across the nation and globally, resulting in exciting, innovative, and specialized new programs that are transforming patient-centric care. Many organizations have embraced Telehealth and others are quickly following suit and planning to develop and implement their own Telehealth platforms.
Telehealth is at the forefront of today's healthcare, and it is rapidly transforming the way traditional healthcare delivery is provided. It achieves the tenets of value-based patient-driven care, enhances patient satisfaction, engagement and outcomes, and reduces healthcare spending. Telehealth and virtual care are evolving at a rapid pace and are facilitating changes in reimbursement and policy.
This is the only conference on Telehealth that will equip you and your organization with exciting and innovative practices, case studies, and tools to succeed with implementing telehealth programs, expanding existing platforms, while reducing healthcare costs and improving patient outcomes.
Does Your Language Access Plan Incorporate Telehealth?
The world quickly transitioned to adopt virtual care in the past year, with Telehealth visits more than doubling over the course of 2020.
But for the 25 million plus individuals in the Unites States who are considered Limited English Proficient (LEP), accessing telehealth can be fraught with barriers. In GLOBO's session, learn how including Virtual Care in your Language Access Plan can improve accessibility for LEP patients and gain practical tips for ensuring language access across the entire virtual patient journey.
The event will take place January 25-26, with GLOBO's session to begin at 10:45 a.m. EST on Tuesday, January 26th.

Want to learn more?
Fill out this form and one of our language support experts will reach out to schedule a time with you to discuss how GLOBO can help your health system incorporate language access into your telehealth program.
---
About GLOBO
GLOBO is a B2B provider of translation technology and services, giving organizations the ability to communicate in any language, 24/7 through one simple platform. GLOBO also offers real-time data, analytics and insights to help our users achieve greater understanding of their linguistically diverse customer bases.
GLOBO's full range of omni-channel services include on-demand telephone interpreting, video remote interpreting and email & chat translation, as well as project-based marketing transcreation, text translation, localization and on-site interpreting.
Become a fan of GLOBO on Facebook, follow us on Twitter, LinkedIn and Instagram.