Blog
Examining the Human Experience in Healthcare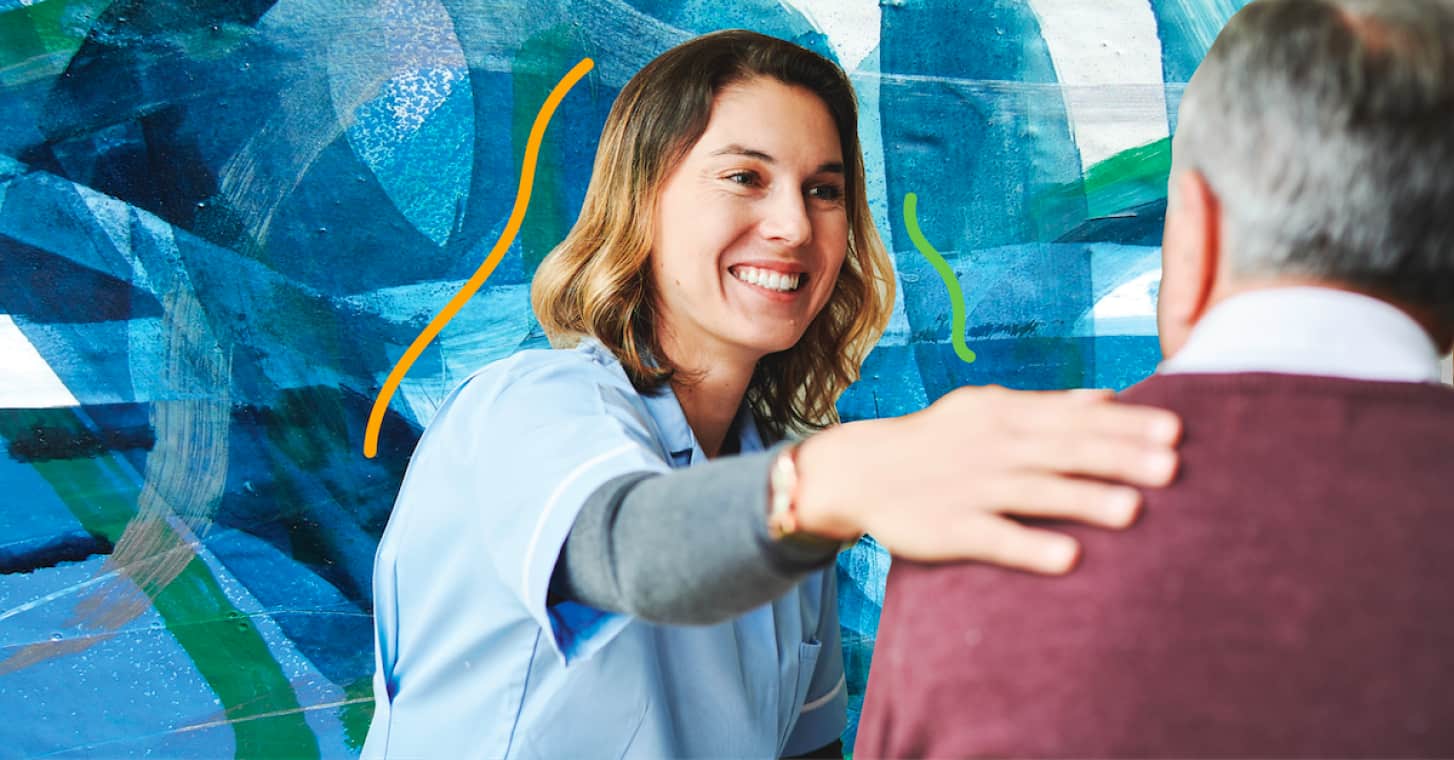 You know patient experience is important. Here's why healthcare leaders and providers should also examine the human experience.
Since the 1990s, there has been a significant shift in healthcare toward a better patient experience. At the core of this movement was the idea that patients should have access to care that is "respectful of, and responsive to, individual patient preferences, needs, and values; and ensuring that patient values guide all clinical decisions" — noble and worthwhile goals. It offered a broader view that patients should not be mere observers in their health experiences but active participants.
Today, the framework that we use to define an exceptional care experience is expanding again.
Shifting the Focus
In 2007, The Beryl Institute defined the patient experience as "The sum of all interactions, shaped by an organization's culture, that influence patient perceptions across the continuum of care." In their 2014 article "Defining the Patient Experience," researchers systematically analyzed literature and culture within healthcare organizations to define "patient experience." They uncovered several key concepts, including:
Influence of organizational culture

Patient perceptions of their care

The sum of all interactions along a continuum of care
These patient experience concepts created a foundational shift in how healthcare organizations reshaped key aspects of care. Patients — previously thought of as passive recipients of care — could now play a more active role in determining the course of treatment after diagnosis. According to multiple studies, engaged patients are more likely to have better outcomes in both disease prevention and management, which is a win for everyone.
Patient experience became a kind of buzzword by the late 2010s — then everything changed. Within the first few months of 2020, not only were our private and professional lives turned upside down by the COVID-19 pandemic, but so was our entire healthcare system. We were collectively inspired by the bravery and selfless sacrifices our healthcare providers made as they put themselves in harm's way to treat patients with an unknown and frightening new virus. The potential for long-term trauma, stress, and burnout was overshadowed by the immediate needs of those suffering from COVID.
The pandemic also exposed and exacerbated disparities in the healthcare system, from socioeconomic risks and systemic racism to inequitable access and language barriers. While these issues simmered under the surface before, the stark realities of a deadly virus immediately exposed the failure of our systems to provide the same care to everyone.
Now, more than two years into a global pandemic, it's time for the healthcare industry to examine where it was and where it needs to go on the path toward a more equitable and effective healthcare system. As such, the focus on patient experience to improve care is now expanding to a more comprehensive human experience.
The Human Experience: A New Perspective
So what is the human experience in healthcare? In a 2021 article, the authors of a 2014 study revisited their original definition and came up with a new paradigm that encompasses:
Patients and families — better experiences and outcomes for the people who seek care
Providers and care partners — a more supportive and collaborative system for the people who provide care

Community

— a more interconnected community to eliminate barriers preventing equitable access to high-quality care
It isn't a dramatic divergence from the previous focus on patient experience. Rather, it's an expansion of the same ideas and concepts to encompass all the individuals — and systems — that are part of the full care experience. Over the past several decades, healthcare organizations have created a solid foundation on which to build a better human experience.
Measuring the human experience requires moving from a unidirectional focus that uses point-in-time satisfaction survey metrics and quantitative health outcomes data to a full-spectrum analysis of every step of the multifaceted, holistic healthcare journey. To get that full picture, leaders must understand the impact on every person who interacts with the system, and with each other, along the way.
Better Experiences (for

Everyone

)
Patients:
In a 2021 Patient Experience Journal article, authors asked patients what defines a good experience in healthcare. The top five answers reveal more about a human experience than a patient one. Specifically, people wanted providers to:
Communicate clearly in a way they can understand

Listen to them

Provide a clear plan of care and why it is needed

Ask them questions to try and understand their needs and preferences

Treat them with courtesy and respect
At first glance, these are all criteria for great medical care. But upon closer examination, they are about more than just healthcare. They are about treating people with dignity and respect as people first and as patients second. Care is not merely a transaction between a provider and a patient; it's an interactive experience among people. The concepts of communication, planning, listening, respecting, and learning from each other are all encapsulated in the patients' top five most important criteria for identifying a good patient experience.
Moreover, it reveals that it's not enough to have extremely qualified medical professionals who work within a healthcare system. Organizations must foster a culture that cultivates and prioritizes the ability to connect with and relate to each other, both as colleagues and in patient-provider interactions. It's impossible to separate a healthcare experience from a human one.
Providers:
It's also impossible for those who work in the profession to disconnect from the very human experience of providing care. From physicians and administrators to nurses and home health aides, great care requires an emotional investment in each patient's outcome. That can take a toll on the psychological well-being and physical health of providers and staff.
Rarely have those effects been more acute or consequential than in the last two years, as providers literally lived (and some even died) in the service of patients. While some of the life-and-death stress of COVID-19 has faded, the need for better emotional care and mental health support from top administrators should not.
Another (often forgotten) piece of the support puzzle is ensuring that providers have adequate access to services that can help them communicate and collaborate with patients. For example, implementing user-friendly telemedicine platforms for better rural patient outreach or partnering with language support services that allow providers and patients with limited-English proficiency (LEP) to communicate.
Marginalized Populations:
The challenges of inequity were always present in our healthcare system but never as obvious or as consequential as during the pandemic. The cost of structural racism was lives lost due to a lack of access, fear of a healthcare system that has continually mistreated marginalized individuals and communities, and implicit biases that subtly pervade medical education and clinical treatments. A broad examination of the human experience in healthcare requires that we confront these corrosive and devastating effects.
For example, LEP patients have only limited access to care and suffer worse health outcomes, according to multiple studies over the years. Healthcare facilities must examine implicit and explicit biases that exist to further marginalize LEP patients who need care (as well as other marginalized communities). Evaluating patient journeys from the perspective of marginalized populations, and eliminating roadblocks, is an essential part of creating better experiences.
Championing the Human Experience
Healthcare organizations today are in a unique position to create lasting change that improves the healthcare experience for everyone, but it won't be easy. It will require a concerted effort to:
Recognize and mitigate unconscious bias for every patient, regardless of the language they speak, where they live, or their socioeconomic background

Establish processes and programs that support historically marginalized populations, especially people of color, refugees, immigrants, and LEP communities

Increase community outreach and engagement to address the full spectrum of health, beyond just physical health needs

Create support systems for providers and staff to reduce fatigue, stress, and burnout

Recognize the contributions of everyone within a healthcare ecosystem
The concept of a human experience in healthcare is a natural extension of the work healthcare organizations began several decades ago with a focus on the patient experience. Moving forward, the ability to recognize the interconnected nature of every interaction and every person will lead to better care for everyone in the future.
Find Your Partner in Championing the Human Healthcare Experience
GLOBO is a leader in providing language support services that connect healthcare providers with LEP patients. Talk to us today about how our services can help your organization become better champions of the human experience in healthcare for every patient.
Stay up to date.
Stay connected with tips, resources & stories on language access.