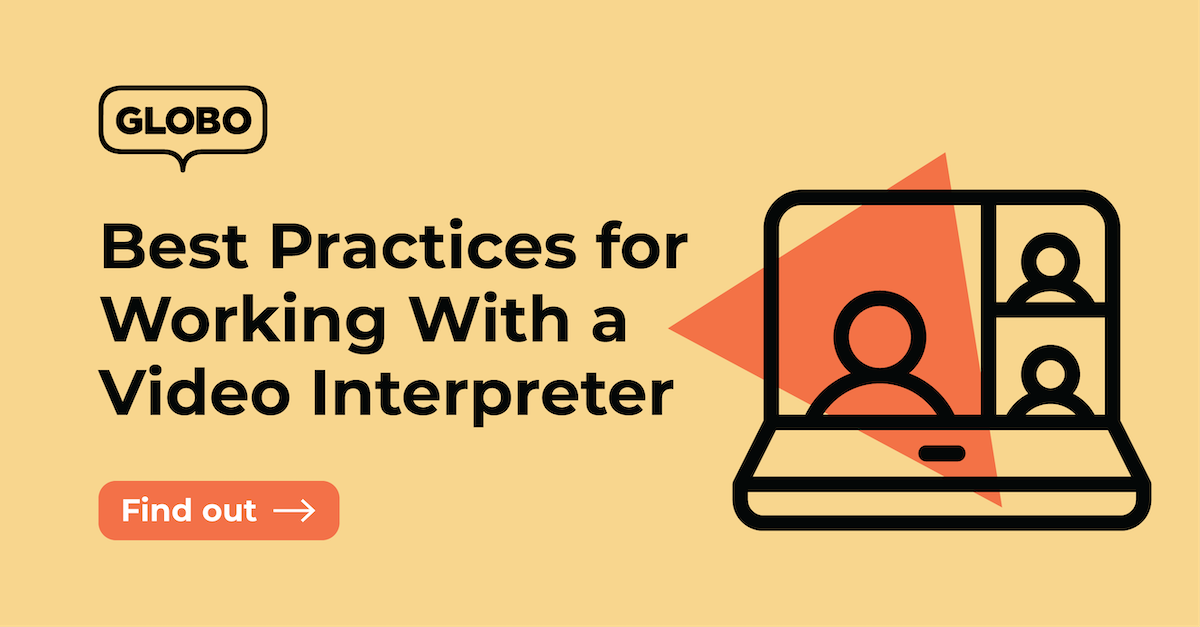 Video interpreting has the ability to increase efficiencies, reduce interpreting costs, and improve availability. As video appointments increase, here's how you can help improve the quality of care for LEP and Deaf and Hard of Hearing patients.
The demand for video remote interpreting (VRI) for health appointments has been on the rise dramatically since March 2020; for healthcare professionals, that means understanding the best practices for working with an interpreter via video is becoming increasingly important. Below, we've outlined some of the benefits of VRI, as well as tips to ensure the best quality care for patients (no matter what language they use).

Benefits of VRI
The Joint Commission establishes accreditation standards for the provision of care, treatment, and services. In order to effectively meet these standards, there must be a focus on providing effective care to all patients — without language barriers standing in the way. VRI is an invaluable tool for this purpose. A few noteworthy benefits of video remote interpreting include:
Ensures limited-English proficient (LEP) and Deaf or hard of hearing patients have access to critical information during health-related interactions to negate health disparities
Ensures telehealth is available to those who are Deaf or hard of hearing
Ensures emotions and non-verbal cues are adequately interpreted during nuanced care scenarios in the case of signed languages
Ensures extremely quick access to a wide variety of professional interpreters
It's familiar— especially since the onset of COVID-19. Many people have adopted digital technologies for communication, which combined with ease of use, helps promote the use of professional interpreting services over family members or other unqualified, ad hoc interpreters.

Best Practices for VRI Appointments
1. Prepare Your Setting
The more prepared the setting before the VRI session begins, the smoother things will go. There are several steps to run through when preparing for a VRI appointment:
Check your equipment. Is everything functioning properly? Do you have a strong Wi-Fi connection?
Eliminate background noise and distractions
Make sure there is adequate lighting in the room for the patient to be visible to the interpreter
Is the equipment positioned properly so that all of the participants can see the interpreter and vice versa?
Do you have proper sized equipment? Especially in the case of signed languages, a larger screen can aid communication. The interpreter should be easily visible for all parties.
2. Communicate Clearly
Speak in short sentences, using straightforward and precise words. If you use compound sentences and ambiguous words, it can make it difficult for the interpreter to communicate everything you say accurately. They will be working off of notes and memory, which is more challenging with complicated, lengthy segments of speech. Remember:
Use simple, "living room" language
Avoid technical jargon
Use basic concepts
Avoid slang, metaphors, and idioms
Another important thing to do: Speak in first-person, just as you would speak to the patient if they spoke the same language as you. The interpreter acts as a conduit between you and the patient, and you want the patient to feel as though you are speaking to them, because you are. Not doing so can make the patient feel isolated or "talked about" and not "talked to."
3. Allow Time for Communication Between Statements
Pause often when you speak, and always allow time for effective communication between the interpreter and the patient. A good rule of thumb is to state a complete thought or concept and pause to provide time for the interpretation. Once your statement is complete, pause for even longer while the patient forms their response.
4. Use Correct Terminology for Explanatory Statements
Pointing or gesturing may not be visible on camera, and words like "over there" or "this" in reference to an object or position in the room may not be clear. Keep in mind that when you say "this" the interpreter will interpret exactly that "this." Always use specific terminology to ensure the interpreter can interpret the message that you intend to transmit. The interpreter cannot explain what you mean, only interpret the message you give them.

The Way we Access Healthcare is Evolving...
Patient-centered communication is all about tending to a patient's needs in a way that makes the experience better for them — which means direct communication with the provider, as close to a monolingual encounter as possible. VRI serves as an excellent tool for this purpose — whether during a pandemic when telehealth is a necessary part of care or in everyday care scenarios when patients in-office have special communication needs.

Additional Resources: